Verrukkelijke baby's – 1
January 26 2023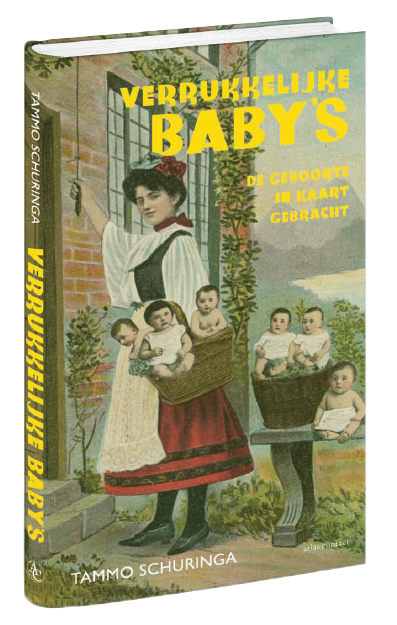 I am finalising my book Verrukkelijke baby's, de geboorte in kaart gebracht (Delightful babies, birth mapped). The text is finished, the images have been selected, the first proof is imminent.
In 2012, I bought a remarkable postcard on Amsterdam's Waterlooplein, depicting a flying fish holding a baby in its mouth. The card became the starting point of a miraculous quest.
In Verrukkelijke baby's, I use old folk tales to unravel the origins of babies. Anyone paying close attention around 1900 could see infants everywhere. Babies were hidden in eggs, cabbages, trees, flowers and wells. And on 1 April, they were delivered to homes.
During the first 20 years of the last century, the postcard was an extremely popular medium of communication. Billions of cards went around the world. The surreal baby cards shown in this book were briefly a very popular subgenre. Verrukkelijke baby's depicts both the genesis of the baby and that of the postcard and tells the story of their successful extravagant marriage.
The book will be published by Atlas Contact on March 14 and can also be ordered online from the publisher.